Services
3PL Policy
We provide new value to the market by effectively maximizing the use of all human resources, space, and functions to meet the rapidly increasing needs of the logistics industry.
All of our partners are our customers, and at the same time, our partners in providing services. We will never engage in business under unfavorable or unjust conditions.
For the future of the logistics industry, we will constantly develop new services created by the growth of human resources and data technology.
Service Areas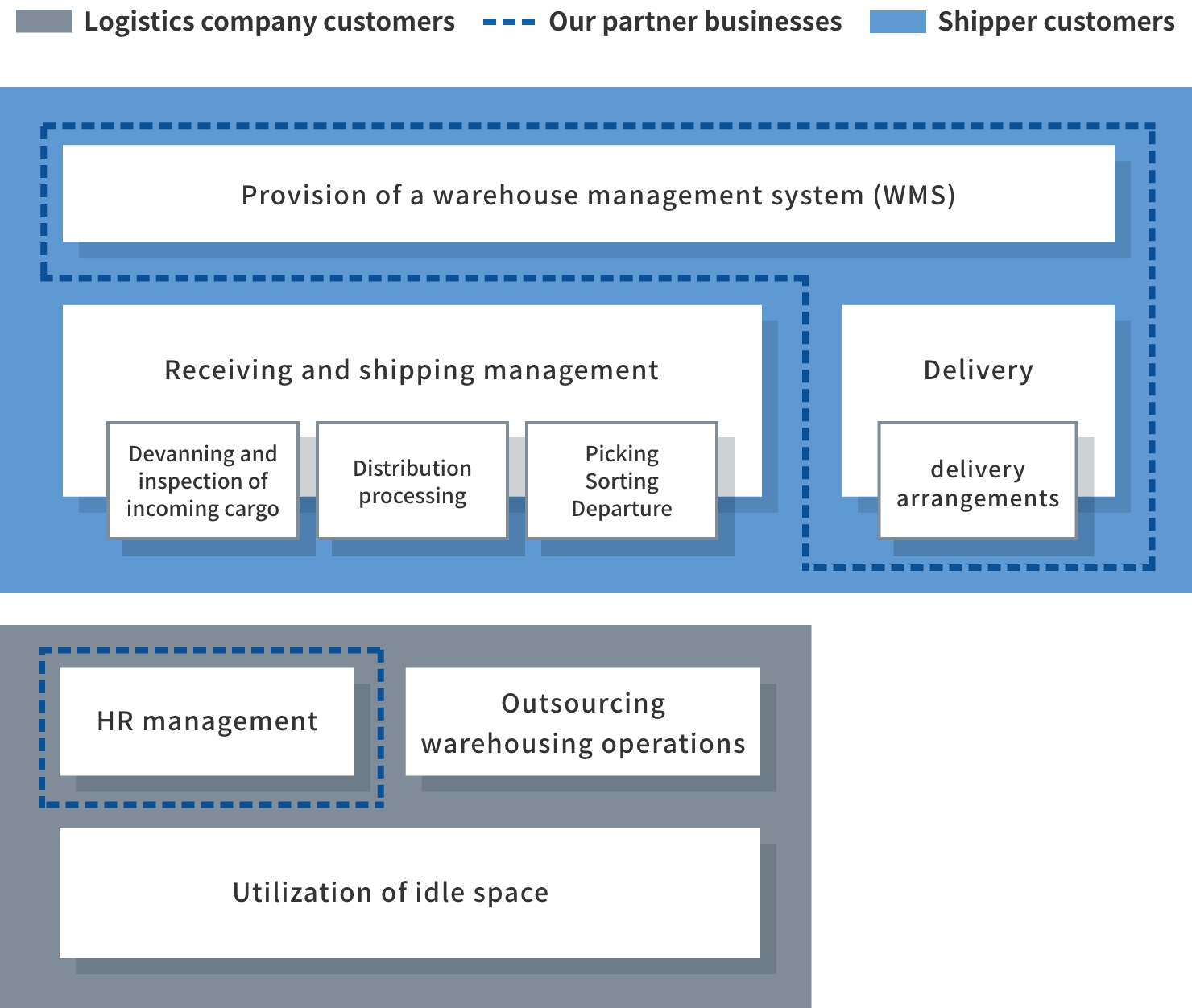 LOGITECH's service areas
cover all areas related to logistics with human resource management at their core.
Shipper customers:Comprehensive logistics support for e-commerce businesses, long-term and temporary storage at our own warehouses, handling of receiving/distribution processing/shipping, handling of delivery arrangements
Logistics company customers:Proposals for the utilization of idle warehouse space, workforce management, outsourcing of warehouse operations
Our partner businesses:Mutual cooperation in the provision of human resources, mutual cooperation in delivery operations, mutual cooperation in WMS-related operations
Service Content
BEITRE

+
Warehouse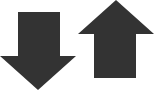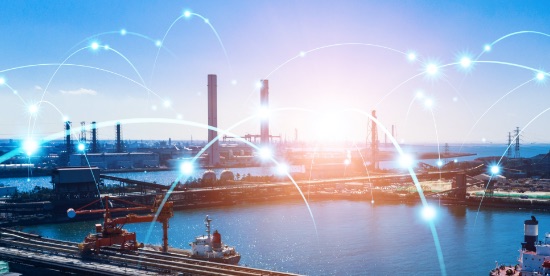 Improve operations
・Identify recruitment issues and develop a plan
・Seminar on labor-related laws and regulations
・Identify logistics issues and improve operations
・Establish a new center or consolidate existing centers
・Management systems and solutions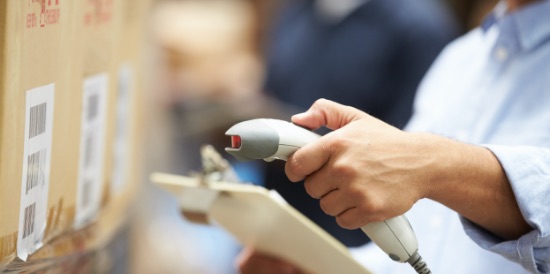 Secure a workforce
・Recruit human resources, recruit part-time and day laborers, temporary staffing, recruitment process outsourcing
・Outsourcing/contracting available at our warehouse (Heiwajima, Ota-ku, Tokyo)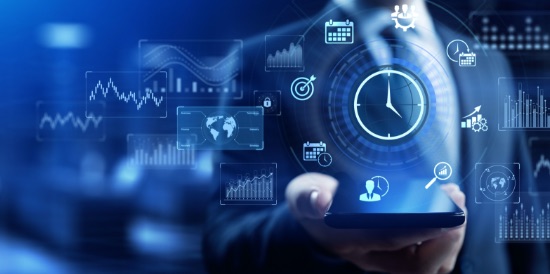 Systems
・Recruit and advertise jobs
・Manage shifts and labor
・Manage contracts and invoice data
・WMS
・Outsource administrative work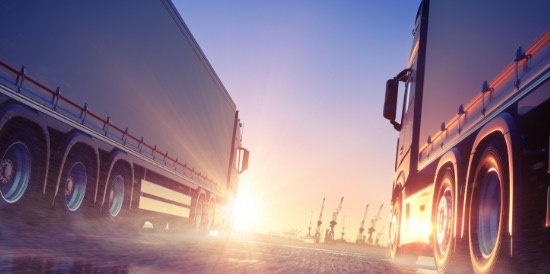 Arrange shipping
・Light vehicles, 1t/2t/4t/10t air freight, expedited delivery
・Can be arranged 24 hours a day, 365 days a year
・Use of partner companies
・Guarantor for drivers
Service Examples
We will work with our partner companies to provide optimal services that meet your needs and resolve your logistics issues
We can provide any combination of services according to your desired business scope and content
We will take full responsibility for securing workers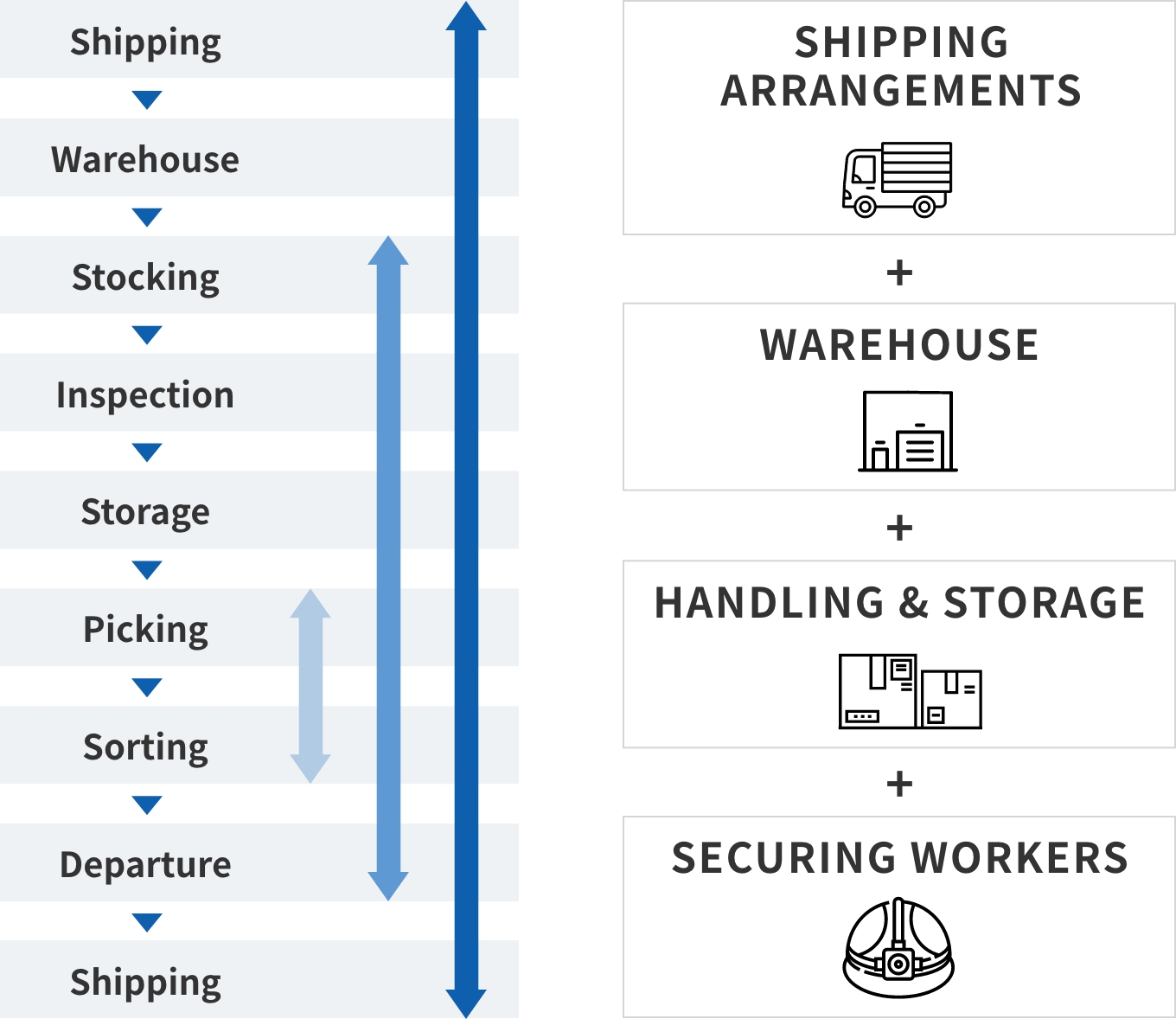 Service Lineup
For shippers who want…
Receiving and shipping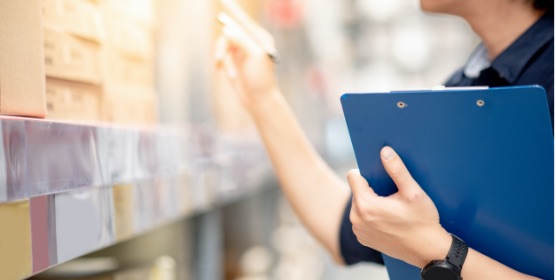 We can handle all or part of the receiving (devanning, inspection), storage, inventory management, and shipping (picking, packing) of your merchandise and materials. In addition, we can manage all receiving and shipping data and provide this data via the warehouse management system (WMS).
Distribution processing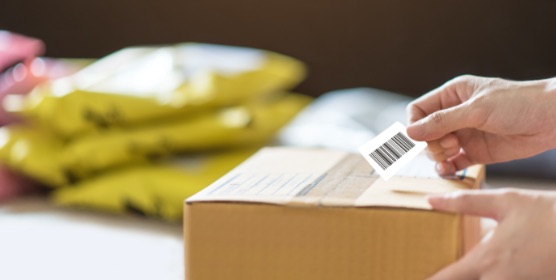 We can handle the product processing required in the distribution process, such as the repackaging of bulk inventory products, affixing of promotional labels to products, and the inclusion of novelty items. We can take over any manual work that needs to be done before packaging and shipping in a timely manner.
Storage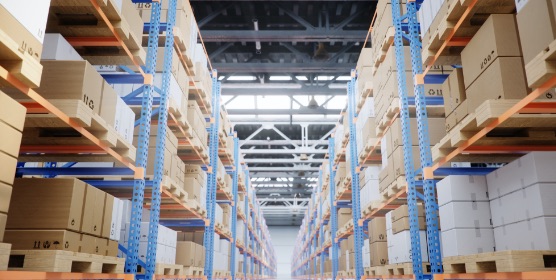 We can provide temporary and long-term storage for your merchandise and materials, including storage of seasonal products and short-term inventory for temporary busy periods, as well as storage of materials that require long-term storage such as event materials. We can take care of storing your merchandise and materials that are difficult to store in existing logistics facilities.
Delivery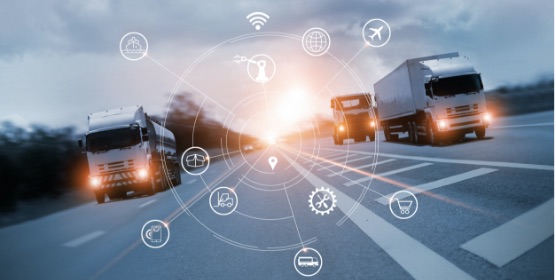 We can handle the delivery arrangements for your merchandise and materials after they are prepared for shipping. We can arrange deliveries using our own or our partners' delivery services and provide flexible services such as regular route delivery and temporary chartered delivery.
Flexible staffing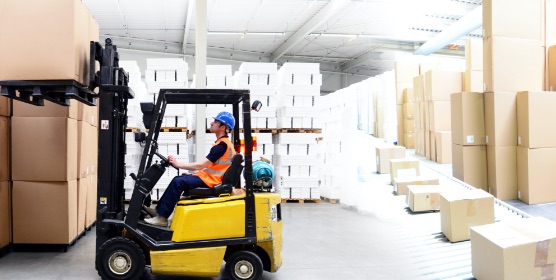 We can provide the human resources you need to handle receiving, shipping, and other operations in existing logistics facilities, either on a regular basis or temporarily during busy periods. Our staffing service can be used to temporarily or periodically increase your workforce to handle distribution processing for events, picking operations during busy periods, and stocktaking.
For logistics companies
who want…
To offer up their idle space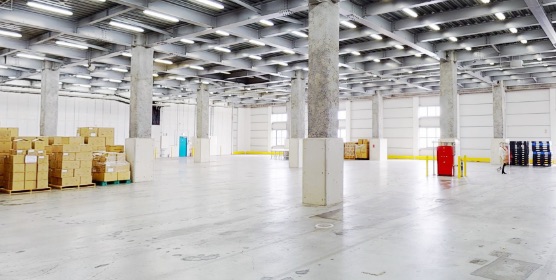 Please contact LOGITECH if you are thinking about utilizing the idle space in your existing facilities. We can offer various proposals for utilizing idle space, such as matchmaking with shippers and renting out the space for operations.
Flexible staffing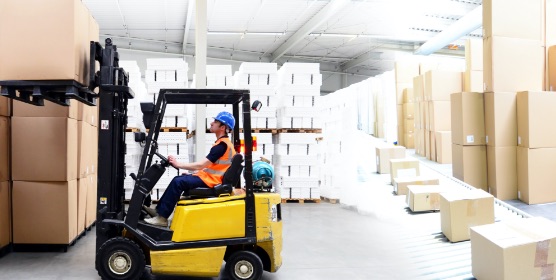 LOGITECH can provide staffing services to expand your regular operating structure or to temporarily increase your workforce only during busy periods. We can provide comprehensive human resource management (in which we handle all aspects of staffing), recruit and dispatch staff using Group-affiliated HR firms, or handle the recruiting or hiring process on your behalf. We will use the appropriate method to achieve the workforce you need.
Warehouse operations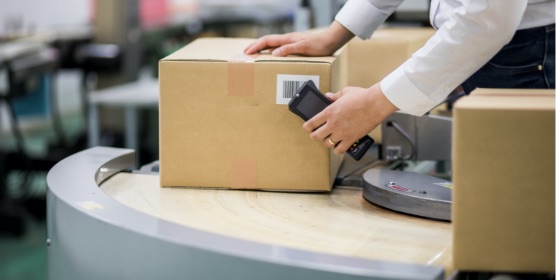 We provide outsourced services for various warehouse operations that arise in logistics companies' warehouses. We can handle the full range of operations in logistics company warehouses, including distribution processing (such as the labeling of promotional merchandise) and short-term receiving and shipping work during busy periods.
Systems & Operations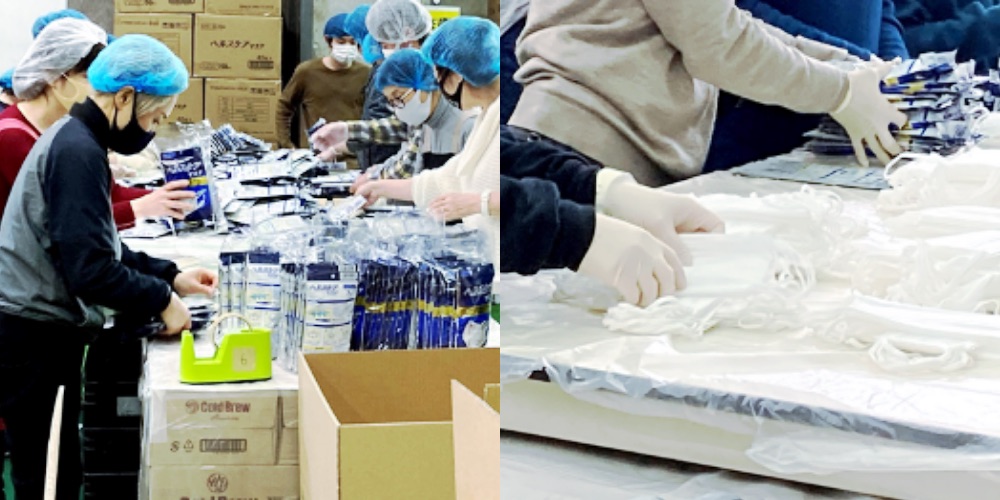 A view of our work: Distribution processing

We handle pre-shipment processing of inventory into finished products, such as the repackaging of mask products into smaller batches, for which demand has increased due to the COVID-19 pandemic.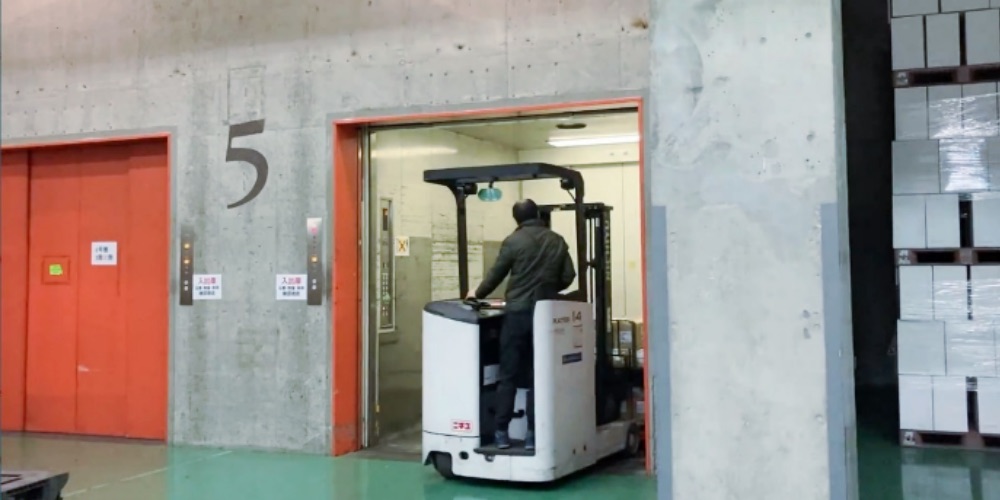 A view of our work: Warehouse operations

Battery-powered forklifts and other equipment are used during warehouse operations. We secure forklift operators through our own in-house training.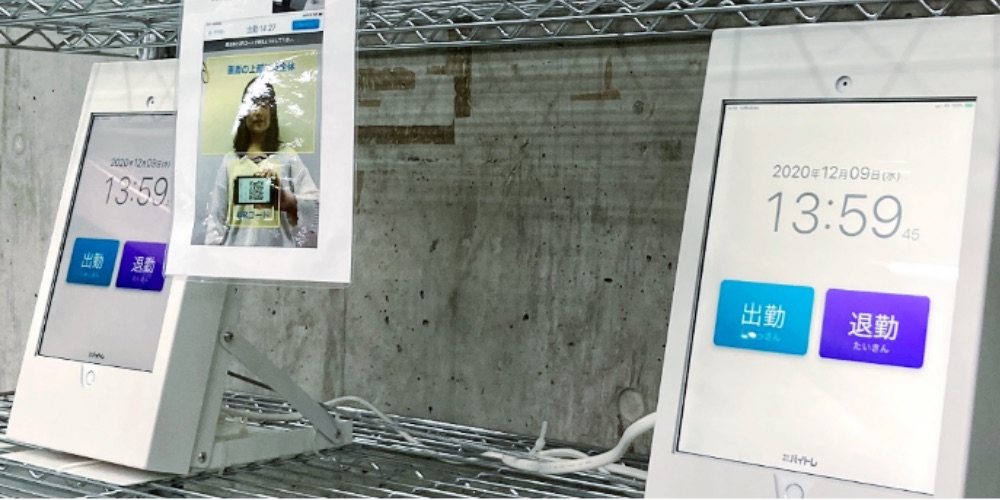 Time and attendance system

We have introduced a time and attendance system that links with facial recognition security to ensure worker traceability.